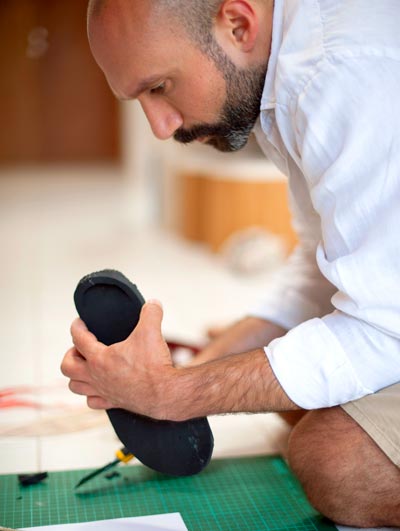 Back in 2009, I thought that going barefoot would solve my knee pain. It didn't, but something unexpected happened. Back then, I had made myself sandals to run in but ended up wearing them more than all my other shoes.
I wore them almost everyday until they broke. That's when I decided to buy something similar. This was very frustrating because what I found either felt like cardboard or was bulky or unrefined. So I made my 2nd pair, improving the design and durability. This same story repeats 37 times!
At some point I had made a pair of sandals for my partner Hanane, and we'd wear them almost everywhere. People were regularly coming up to us on the street asking us where we got them from. It was obvious that there was something special about these sandals.
We began accepting orders, and had people buying them across 4 continents. That started a long process of "get real-world feedback, improve, repeat." With every upgrade, we wanted the best materials so the sandals would be even more comfortable and durable.
5 years and 37 tries later, we finally had it right. So right in fact, that as soon as we sold 50 pairs, a hundred more lined up. With each pair taking us 4 hours to make by hand, we knew we had to find a better way to bring Makus to the world.
And that's why we're here today, reaching out to you. Launching a Kickstarter campaign will help us deliver the unmatched quality, comfort, and design of Maku sandals to you and to the world.
We love our Makus, and we hope that you want your own Makus as well. Thank you so much for sharing this journey with us!